from Intuitor Website
Introduction
Resonance is a common thread which runs through almost every branch of physics, and yet a lot of people have never studied it. Without resonance we wouldn't have radio, television, music, or swings on playgrounds, not to mention cool gismos like Tesla coils. Of course, resonance also has its dark side. It occasionally causes a bridge to collapse, a helicopter to fly apart, or other inconveniences.
Unlike black holes, time travel, and quantum mechanics, resonance is common place and easy to observe. Yet, it is one of the most striking and unexpected phenomenon in all of physics.
The following report is the most comprehensive on resonance available on the web. Its information is intended especially for use by high school students, teachers, home schools, and anyone interested in the subject. Suggestions for quick demos are included in many of the sections and are noted on the contents page. More elaborate demos and lab experiments are described in separate sections which contain the word demonstration in the title.
The materials and parts specified in the demonstrations are based on items commonly found in the United States since that is where the demonstrations were built and tested.
However, we sincerely hope our international readers will be able to gain some useful ideas.
Contents

by Terence Newton

December 19, 2014

from WakingTimes Website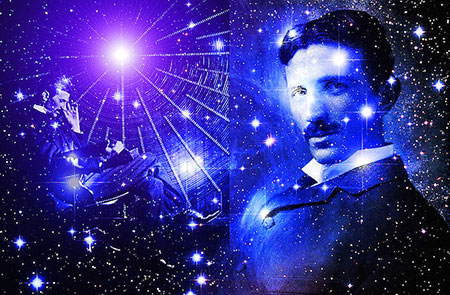 In April 2014 

we reported

 on a seemingly exciting development in the pursuit of free energy.
Making headlines around the world, an organization calling itself the 

Fix the World Organization

, represented by '

Hope Girl

' publicly released open source plans for an free energy device called the Quantum Energy Generator, or QEG for short.
Public interest in the device and in the plans was intense for a spell, and many people chimed in about the efficacy of such a device, with some showing tremendous optimism and others offering reasons why the device and the plans would simply not work as advertised.
"This new power for the driving of the world's machinery will be derived from the energy which operates the universe, the cosmic energy, whose central source for the earth is the sun and which is everywhere present in unlimited quantities."

Nikola Tesla
The QEG is based on a patent of the famous Serbian-American scientist, inventor and engineer, 

Nikola Tesla

, and was re-designed and modernized by inventor James M. Robitaille​.
The following is a short description of the QEG by Fix the World:
"An average modern household requires 5-10KW of power to operate.

 

A conventional generator needs 15KW to produce 10KW of power. To produce these 15KW of power we rely on gas, diesel, propane, coal or other products that can be metered creating profits for the oil industry.

 

130 years ago Nikola Tesla invented and patented an energy generator. This is a resonance machine that only needs 1KW of input power to produce 10KW of output power. His patents are now in the public domain.

 

The Fix the World Organization has reproduced Teslas design with a few modern twists to generate the same results. Our Quantum Energy Generator (QEG) provides 10KW of power output for less than 1KW input, which it supplies to itself.

 

We have freely given this technology to the people of the world. We've open sourced a full set of instructions, user manual, schematics and parts list for any engineer to follow and reproduce the same results.

 

How the QEG works:

First we use a starting power source, such as an outlet or a crank to power the 1 horsepower motor.

 

This motor spins the rotor in the generator core. The unique oscillator circuitry configuration in the generator core causes resonance to occur.

 

Once the core achieves this resonance it can produce up to 10KW of power, which can then be run through an inverter to power the motor that spins the rotor.

 

You can then unplug the motor from the original power source and the generator will power itself."

[

Source

]
Shortly after the announcement and the release of the open source designs, the organization 

released a video

, taken in Morocco, of a working QEG that was switched on in front of a room full of applauding, celebratory onlookers, apparently showing that the device worked as described.
Since then there has been little new information about the QEG, and many people hopeful that this device is the real thing are still wondering if it actually works or not.
According to recent statements on the Hope Girl website, there are currently 60 QEG's being built around the world, and after having experienced some set backs due to public negativity and betrayal, the organization is "finally getting some of the results we've been looking for!" Although, we don't know exactly what this means.
Working 

free energy devices

 that are made available to anyone who has the gumption to build one would represent a major shift in the world of energy, and potentially the dawn of a new era for the planet.
Historically, however, claims about working free energy devices have always seemed to come up short, and to date there is solid evidence that any such functioning device has been built.
Nikola Tesla (1856 – 1943) – Master of Resonance
It was an innocent experiment.

The year was 1898 and Tesla attached a small vibrator to an iron column in his laboratory located in New York City. He closed a switch and it began vibrating. He had noticed that at certain frequencies specific pieces of equipment in the room would start to jiggle. Changing the frequency would move the jiggle to another part of the room. Unfortunately, he had not taken into account the fact that the column ran downward into the foundation beneath the building. His vibrations were being transmitted all over Manhattan.

For Tesla, the first hint of trouble came when the walls and floor began to heave (ref 1). He immediately stopped the experiment just as the police came rushing through the door. It seems he had started a small earthquake in his neighborhood which had smashed windows, swayed buildings, and sent panicky neighbors rushing into the streets. The police fingered Tesla because they had frequently responded to complaints about his unusual activities. It was another of Tesla's experiments in resonance. Although Tesla was not the first to discover resonance he was obsessed with it and created some of the most incredible demonstrations of it ever seen. He studied both mechanical and electrical versions. In the process he created an artificial earthquake, numerous artificial lightning storms, knocked an entire power plant off line in Colorado, and nearly caused the steel frame of a sky scraper under construction in Manhattan to collapse.

Tesla realized that the principles of resonance could be used to transmit and receive radio messages well before Marconi. In fact, many knowledgeable sources now credit Tesla as the inventor of radio rather than Marconi. This includes the Supreme Court which in 1943 ruled that Tesla's radio patents had preceded all others including Marconi's .

Tesla was a one-of-a-kind neurotic genius who had a profound influence on our technology and culture. He was obsessed with germs and the number three yet his inventions almost single handedly enabled the creation of our modern AC power distribution system. He was a contemporary of Edison and for a time worked for the famous inventor. Unlike Edison (who Tesla considered something of a bumpkin), Tesla used theory and calculations as well as experimentation to conduct his research. He was the more modern of the two in his approach to research and development. He was also far more interested in pursuing his inventions for their own sake than in becoming rich and famous.
Unfortunately, Tesla's obsession with pursuing grand ideas and projects proved to be his undoing. He became convinced that energy could be transmitted through the air without wires and spent a small fortune on a demonstration project. 

He built a giant Tesla coil in Colorado Springs

 which used electrical resonance to build up incredibly high voltages and caused fantastic lightning shows. Unfortunately, his dream of transmitting wireless power was never commercialized and, partly because of it, Tesla ended dying a poor man .
The mad scientist stereotype which persists to this day came from Tesla. Tesla's Manhattan Lab was a mysterious place complete with buzzing electric arcs, eerie lighting, and all kinds of bizarre contraptions. The lab undoubtedly inspired mad scientist scenes in 1930's horror pictures such as Frankenstein, with Boris Karloff, in which high voltage arcs are used to give the monster life. Although Tesla never attempted to create life he did create the first radio controlled robotic vehicles and claimed that one day robots would free humanity of drudgery work. He also claimed to have invented a powerful death beam.
For entertainment, Tesla once convinced his good friend Mark Twain to test out a vibrating platform in his Manhattan lab. Twain took him up on the offer and found it to his liking. When Tesla commanded Twain to come down off the platform Twain refused because he was having a good time. A few minutes later Twain ran from the device. It seems that Tesla had deliberately neglected to tell Twain that the vibration tended to cause diarrhea.
Had Tesla been less eccentric and more interested in personal fortune he would have avoided the grandiose projects which were his undoing. If he had simply avoided making outrageous statements, he would have had more scientific credibility and easily overshadowed Edison. Today, Tesla would be far more famous and the subject of resonance would probably receive far more attention in science textbooks.

Resonance was certainly one of Tesla's greatest passions and, like Tesla, seems almost too mysterious to be real.

Info: Tesla Coil Wireless Energy and Resonance Demonstration – Bing video
Hans his life story:
History of the Hans Coler over unity device. It started in 1920 and with two different solid state energy generators. The M machine ( Magnetstromgerate) and the S machine or Stromer Erzeuger which would produce a much higher load. For the first time demonstrated in Berlin 1920 and able to power five 1000 candle lights at that time and was powered by small Leclanche cells. Based on the description now also assumed to be the same invention as claimed by Norrby and as such demonstrated too.  To prove that the devices produced the claimed energy three top scientists including DR Schumann where consulted and tested to that. Dr Schumann was brought into the USA and worked there for the rest of his life.
---
Back to our German naval captain Hans Coler who also invented an over-unity generator. He called this device The Stromerzeuger.
The basic Stromerzeuger element is that of an open secondary circuit, capacity loaded, inductively coupled to a primary circuit. The apparatus principally consists of two parallel connected spools which being bi-filarly wound in a special way, are magnetically linked together. One of these spools is composed of copper sheets (the spool is called the 'plate spool'). The other one is made of a number of thin parallel connected isolated wires (called 'spool winding'), running parallel to the plates, at small intervals. Both spools can be fed by separate batteries (6 Volt, 6.5 A Hr were used). At least two batteries are needed to get the apparatus operating, but subsequently, one battery can be removed. The spools are arranged in two halves each by the bi-filar windings. The plate spool also contains iron rods with silver wire connections. These rods are magnetized by a special battery through exciter windings. Electrically, the exciter winding is completely isolated from the other windings. Hans said that the production of energy takes place principally in these iron rods and the winding of the spools plays an essential part in the process. It should be mentioned that the spool circuit is powered up first. Initially, it took a current of 104 mA. The plates and exciter circuits are then switched on simultaneously. When this is done, the current in the spool circuit dropped from 104 mA to about 27 mA. It is suggested that an electron be not only regarded as a negatively charged particle but also as a South magnetic pole. The novel feature is that the capacities are connected to the secondary core through permanent magnets. It is claimed that on switching on the primary circuit, "separation of charges" takes place with M1 becoming positively charged and M2 becoming negatively charged and that these charges are "magnetically polarized" when they formed, owing to the presence of the magnets. When the primary circuit is switched off, a "reversing current" flows in the secondary but the magnets "do not exert a polarizing effect on this reversal". Two of the basic elements shown above are placed together making a double stage arrangement with the copper plates close together (presumably as capacitor plates): The secondary windings are both exactly equal and wound in a direction such that, on switching the primary coil on, the electrons in the secondary coil flow from P1 to P2 and from F1 to F2. This is the basic working arrangement. More of these double stages can be added to provide higher outputs. —————————————————————————————————————- Selection and producing magnets.
The best soft magnets can be found in the earth itself and known as lode stone, lode star. However, a permanent magnet has two separate energy streams coming from it. The main field is the magnetic field which is very well known. It normally flows out in every direction, but in the MEG, a very good conducting path is provided by the frame of the device. This traps the magnetic energy flow and channels it around inside the frame. This prevents it masking the second energy field which is the Electrical energy field. With the magnetic field moved out of the way, it is now possible to tap this energy field for additional power output. The MEG looks like a very simple device, but in actual fact, it is not. The magnetic flux from a permanent magnet consists of two components. One component is rotary, and it spreads out in every direction. The second component is linear, and it gets swamped and hidden by the rotary field. If a toroidal yoke wound with an input winding over its whole length is used, then that trap all of the rotating magnetic field inside the toroid. The snag is that this requires considerable input power to energize the toroidal winding. This is a major boost to the functioning of the device. Now, with the rotational magnetic field trapped inside the toroid, the liner field becomes accessible, and it is a very useful field indeed. It is electrical in nature. In actual fact, magnetism and electricity are not two separate things, but instead, they are different aspects of the same thing, so both should really be referred to as "electromagnetism". Anyway, the linear field is easy to access once the rotational field has been removed. All that is necessary is to pulse it sharply. When that is done, real electricity is introduced into the MEG from the surrounding environment. The sharper the waveform, the greater the additional electrical input becomes. This is what makes the MEG have a COP of say, 5.4 which is a practical working output. If the output is then manipulated to provide the input power needed for the pulsing, the COP effectively becomes infinite as you do not have to provide any power to make it work and you have a substantial power output. The power output divided by the power input you have to provide to make the device operate, gives the COP rating, so any output divided by zero input, always gives infinity. The magnets may be formed of any polarized magnetic material. In order of descending effectiveness, the most desirable permanent magnet materials are Neodymium-Iron-Boron ("NIB"), Samarium Cobalt, AlNiCo alloy, or "ceramic" Strontium-Barium or Lead-Ferrite. A primary factor determining permanent magnet material composition is the magnetic flux strength of the particular material type. In an embodiment of the invention, these magnets may also be substituted with one or more electromagnets producing the required magnetic flux. The Phi-Transformer. Toroidal shapes are clearly important in many devices which pull in additional energy from the environment, even to the extent that Bob Boyce warns against the high-frequency sequential pulsing of coils wound on a toroid yoke, producing a rotating magnetic field as unpredictable surge events can generate some 10,000 amps of additional current which will burn out the circuit components and can very well trigger a radiant energy build up which can create a lightning strike. Magnetic core. This core is a critical component of the generator. The core determines the output power capacity, the optimum magnet type, the electrical impedance and the operating frequency range. The core may be any shape, composed of any ferromagnetic material, formed by any process (sintering, casting, adhesive bonding, tape-winding, etc.). A wide range of shapes, materials and processes is known in the art of making magnetic cores. Effective common materials include amorphous metal alloys (such as sold under the "Metglas" trademark by Metglas Inc., Conway, S.C.), nanocrystalline alloys, manganese and zinc ferrites as well as ferrites of any suitable element including any combination of magnetically "hard" and "soft" ferrites, powdered metals and ferromagnetic alloys, laminations of cobalt and/or iron and silicon-iron "electrical steel". This invention successfully utilizes any ferromagnetic material, while functioning as claimed. In an embodiment of the invention, and for the purpose of illustration, a circular "toroid" core is illustrated. In an embodiment of the invention, the composition may be bonded iron powder, commonly available from many manufacturers —————————————————————————————————————– During the demonstration in Berlin Unruh claimed that the excess energy came from splitting atoms and was pilloried for it by the scientific community. No one could prove him wrong but still find himself in jail. Has to do with the failure of the Science community; basically, the physical nature and dimensional of charge is neither understood nor established in existing physics. In part, this is due to the opaque relationship between mass and charge, with the former being attributed to the charge-carrier and the latter often treated as a property distinct or separable from the rest energy of the carrier. Energy can manifest itself in various dimensionalities as charge in the ESU, EMU, CGS and SI systems, and contrast this with the correct dimensional of charge, and its expression in the meter-second system. German archives show that Unruh and Coler were working together by 1925 demonstrating there 10-watt machine. And did manage to get it studied by three professors with a positive recommendation. W. O Schumann, M. Kloss, R. Franke. 1933 Unruh and Coler did build a 70-watt machine and 1937 a 6 kwatt one. It did power his house for 3 years but lost to a direct hit by a bomb during WWII. There were two investors involved and did result in some wrangling after the war. The earlier tests and demonstrations could not be properly reconstructed later. Again, this device was demonstrated in Germany to be examined by Prof. Kloss, the now famous Prof. Schumann and by Dr. Frohlich & Coler as independent experts. Not the only ones and a number of other scientists witnessed several demonstrations of the device.
While Coler's Magnetstromapparat did not give the Kriegsmarine a gravity "free energy" battery for their U-boats, the SS Technical Branch E-IV took the design and turned it into a Converter for the Haunebu series of disc aircraft which was incorporated along with several Van de Graaf band generators and a Marconi Dynamo filled with mercury, all of which enabled the craft to reduce mass and produce power for the electromagnetic-gravity Thule Tachyon Ator 7 Triebwerk.
Now there comes another big surprise, according to whistle blowers from dulce it is used there and other locations to supply the necessary electrical energy. All power at the base is created using an advanced system originally created by German scientists following WW2. Probably an advanced Han's Coler's "Free Energy" Generators. The system uses large hexagonal circuits containing magnets and coils to generate energy from what is essentially nothing. In the devices mentioned ferrite magnets were used and from the insider leakage of information do know that the main aliens present in Dulce have been collection natural magnets known as lodestone. Nothing known about any special treatment if any prior to use in the energy generating device. The natural variants are less stabile than the artificial produced once but that could also be an advantage if the assumed origin of energy as mentioned by Unruh would be the source. The energy production does find place after the system starts resonating and the major problem. The natural magnets being lodestone are much easier to due to natural induced oscillate on earth and necessary to produce. As result of oscillation the internal resistance drops. Reducing the internal resistance to almost nil It is clear from experimentation that certain results appear that are not explainable without the presence of a field. The field consists of an infinite number of one-dimensional North and South poles in an incoherent state- incoherent due to the presence of a multitude of other interfering fields formed by other North and South poles, or particles or quanta. Thus, the virtual vacuum is far from empty, far from nothing, it is rather seething with potential energy as the primordial powerhouse of everything in the universe. After the war They all reported the device apparently seen working and that they could detect no fraud.
One model is said to have worked for three months locked in a room. One 1946 demonstration, conducted in the presence of British authorities, an electrical charge measured at 450 millivolts was maintained for three hours until a soldered tag disconnected, and the meter slowly dropped back to zero. Re-securing the broken link failed to restore the tension and charge. The following day, 60 millivolts were obtained, but when further adjustments to the magnets were made, the tension again fell to zero. During the construction and operation of this project, the model was completely open, and nothing could be hidden in it. The device and meter could be picked up and moved around the room, tilted, or turned, without effect. Also, it became clear the Hans Coler did not have a full/clear understanding of the principles behind it, that must have been Unruh but he did passed away. As explained the selection of the wire for the bifunctional coils and use of right magnets essential. Hans Coleman was offered four hundred pond to build on unit in one year being a duplicate of the previous one used to provide electricity for his home in Germany. All material he did need was provide for by Norwegian and British authorities after the war. The decision was taken at a later stage to give more time but already to late because Hans did pass before that time.
Energy from space, the solid-state energy device of Hans Coler. Currently the most popular and used all over the world by the so-called deep State and also pushing the current climate change agenda, this free energy device discovered by Hans Coler in 1925.
Initially his patent application was rejected because going against the at that time known science and classified as "a perpetual motion machine". He contacted three at that time already well known and respected researchers in Germany including Dr Schumacher who after the war was taken into the US. They studied and tested the device and wrote a rapport about it, certified that is was working as claimed, generating electricity from somewhere. The source not known, and the world first documented solid state energy producer from space born. Hans's passive device which he called the 'Magnetstromapparat'. The main problem that his unit required very careful and slow adjustment to get it operating but when it started it continued on test in a locked room for three months of continuous operation. At that time nobody, including Hans, seems any too sure how this device works but did. 
It comprises six bar magnets wound as shown here. Some are wound in a clockwise direction when looking at the North pole and these are called "Right" those wound in an anticlockwise direction are called "Left": These six wired magnets are arranged in a hexagon and wired as shown here: It has now long been known that the source of the magnetism within a permanent magnet is a spinning electric current within ferromagnetic atoms of certain elements, persisting indefinitely in accord with well-defined quantum rules. This atomic current encircles every atom, thereby causing each atom to emit a magnetic field, as a miniature electromagnet. This atomic current does not exist in magnets alone. It also exists in ordinary metallic iron, and in any element or metallic alloy which can be "magnetized", that is, any material which exhibits ferromagnetism. Again: All ferromagnetic atoms and "magnetic metals" contain such quantum atomic electromagnets. In specific ferromagnetic materials, the orientation axis of each atomic electromagnet is flexible. The orientation of magnetic flux both internal and external to the material, pivots easily. Supreme and easy in resonance are these natural occurring magnets found in our soil called lodestar by the Aliens/the Deep State/Globalist.    

So, is the Quantum Energy Generator the real thing?

 

Since the release of the plans for the QEG, and the video of the machine in Morocco, there has been almost no new details about the efficacy of this device.

 

There are very few videos on the web of individual inventors constructing the device, and no one has yet to convince the world that the machine works as advertised.

 

To the contrary, many independent inventors and scientific tinkerers have made various claims that the device is a hoax, and that the demonstrations videos we've seen so far are highly questionable and easy enough to fake.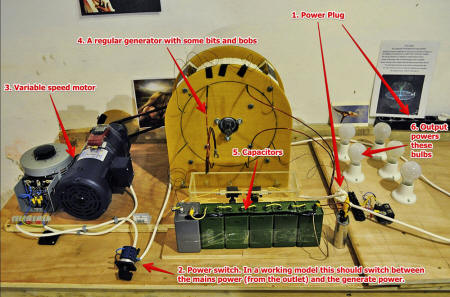 Pointing out that it looks like the machine was actually plugged into A/C current during the Moroccan demo, some skeptics are saying the whole design is a fraud and the organization is merely trying to raise money by offering expensive buy-ins and consulting fees in order to help get the machine working for eager inventors.
Back in April, another group in Taiwan did release a short video of the device supposedly working, but once again, it is impossible to verify from watching the video alone, and therefore, the question still remains if this is a working model or not.
In conclusion, it would be a let down if this turned out to be another free energy hoax, but there just is not enough evidence yet to make a call either way, unless of course you have been able to construct this and have it working.
If anyone can offer proof of this concept, either proving it works, or proving it does not, then it would be great to see.
After all, we do know that the world's energy needs are being met in ways that are seriously contributing to our destruction, and any hope for a working free energy device should be thoroughly vetted.
If you have any additional insight or info on this device, please share in the comments section below.
Sources
Debunked: Quantum Energy Generator (QEG), 10kw out for 1kw in.
To produce these 15KW of power we rely on gas, diesel, propane, coal or other products that can be metered creating profits for the oil industry. 130 years ago Nikola Tesla invented and patented an energy generator. This is a resonance machine that only needs 1KW of input power to produce 10KW of output power. His patents are now in the public domain. The Fix the World Organization has reproduced Teslas design with a few modern twists to generate the same results. Our Quantum Energy Generator (QEG) provides 10KW of power output for less than 1KW input, which it supplies to itself. We have freely given this technology to the people of the world. We've open sourced a full set of instructions, user manual, schematics and parts list for any engineer to follow and reproduce the same results. How the QEG works: First we use a starting power source, such as an outlet or a crank to power the 1 horsepower motor. This motor spins the rotor in the generator core. The unique oscillator circuitry configuration in the generator core causes resonance to occur. Once the core achieves this resonance it can produce up to 10KW of power, which can then be run through an inverter to power the motor that spins the rotor. You can then unplug the motor from the original power source and the generator will power itself.